If you're looking for window washing in the area, then look no further. We guarantee our work through years of experience and hard work.
Window Cleaning Wellington, FL
 You can't have a clean home without sparkling windows and doors. With all the dirt, grime, and dust that accumulates on your windows and doors over time, it's no wonder why they need to be cleaned! If you are looking for professionals in Wellington Florida who do window cleaning with care and detail then we are the go-to company for you. We provide high-quality service with attention to detail so that our customers will not just get their money's worth but also a great experience from us as well.
We are passionate about our customers and want to give them the best service possible. We offer many services for your home such as window cleaning, pressure washing of patios and walkways, gutter maintenance, storm cleanup and more! With us there is no job too big or small because we know that every customer deserves attention to detail which ensures a satisfying experience. Give us a call today so we can get started on making those windows sparkle like new again.
Before anyone even enters your space, your windows give them the first impression of who you are.
​Something as small as a bit of dust on them can have visitors thinking you are lazy or even unhygienic. As such, it is important to always maintain clean windows, even if it means hiring some help.
Not to worry though; when it comes to window cleaning, Wellington, Florida, has some of the best professionals in the country, boldly led by us.
We work well with our clients through establishing expectations and clear communication
throughout the work. We also encourage feedback on any part of our process they would like to see improved in order for us to give them an even better window and door cleaning experience.
"We are available 24/seven and will be happy to schedule your appointment at a time that is convenient for you!"
Window cleaning is not just an afterthought — it can provide a fresh view of your world. But dirty windows are anything but beautiful, and they can make you feel like there's something amiss in your home or office building. We understand that feeling—and we've got the answer!
Just think of our window cleaning process as a one-of-a-kind experience: for starters, we'll sweep off any debris on windowsills before climbing up to give them an expert scrubbing. Then we'll use our squeegee to wipe away the remaining water droplets and other residues after collecting any dirt from the lower edges; so no matter what time of year it is, our customers always get sparkling clean windows with minimal fuss!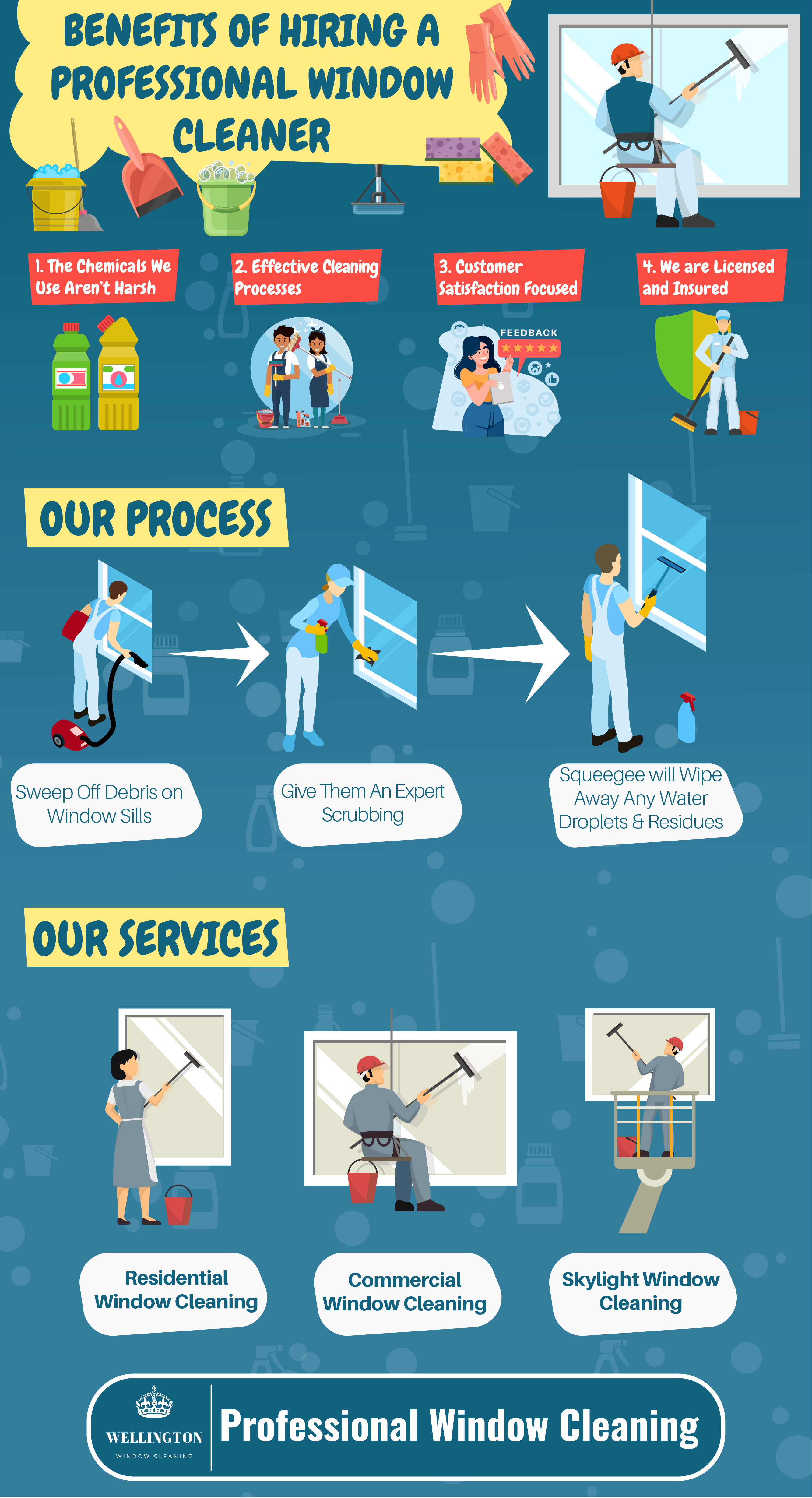 At Window Cleaning Wellington, we offer a wide variety of services to meet your needs. From window cleaning to power washing and more, we do it all. We provide high-quality work at an affordable price so that you don't have to break the bank when it comes time for a deep clean!
We are detailed in washing window and doors, solar panels , patios and decks, screens, pressure washing of driveways and walkways. We provide a variety of services at Window Cleaning Wellington to meet your needs like power washing homes or buildings that have been contaminated with mold or mildew due to recent flooding for example.
If you own a large piece of land in the countryside or even in the city, we can help you clean all the windows on the estate. Whether your main area of concern is the main house or even the barn, we are always eager to help. Not only do we have enough staff and supplies to clean all your windows, but we also ensure professional-grade results.
What's more? We carry out background checks on all of our cleaners and have them sign non-disclosure agreements; prerequisites that ensure each of them is trustworthy and strictly confidential.  
Apart from windows, we also clean window screens. In fact, using a simple process, we can clean them quickly and effortlessly. First of all, we remove the screens from the windows and place them on a flat surface, labeling each one using tape. Then we lay them on towels and vacuum them. Afterward, we wash them over with soapy water and rinse them thoroughly.
Finally, we dry them off with towels, air-dry them, and reinstall them. Ultimately, we aim to leave them as clean as we leave your windows.
We Have the Professional Equipment
Leave it to a pro
Professional window washers know that to fully protect your property you can't just rely on a soapy rag. You need actual equipment wiper for getting your job done right. Our professional-grade tools let you clean faster and more thoroughly than ever before with our innovative new design which is far easier than the old fashioned way of doing things!
Moss and mildew often appear on buildings, residential units, office spaces or any other type of building in the south Florida area. This can pose a challenge for property managers as well as homeowners who are looking to achieve clean roofs without having to spend long hours scrubbing them with soap and water.
The local experts at Wellington Window Pros have seen it all before which is why they possess an arsenal of techniques that rid buildings from these moisture-related irritants while making sure not to harm surrounding plants or pets with toxic chemicals like bleach! One such technique involves dealing directly with moss by using eco-friendly window treatment sprays that kill quickly but don't damage anything else around it - including people near vulnerable trees during application time periods
Benefits of Window Cleaning
Windows are one of the most important parts of any home or building. They provide you with beautiful views, natural light, and warmth but they also have to be cleaned so that way their appearance can stay appealing for longer amounts of time without dirt accumulating on them again!